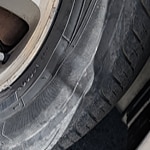 Our team at Lincoln of LaPorte want you to be informed drivers aware of proper auto maintenance, and this includes knowing when to replace your tires. Purchasing new tires is something we all tend to ignore. If we can't see them, we don't think about them. Driving on poor tires can not only decrease your gas mileage but can also be dangerous on the road. Here are some signs that may indicate your tires need replacing.
• Tires have cracks on the sidewalls.
• Your tires have been wearing unevenly or wearing out prematurely.
• The vehicle vibrates when going down the road.
• The tires have bulges or blisters.
Are you in need of new tires or would you just like to know where to go for tires when the need arises? Call us or stop at our LaPorte shop and check out our tire selection or come see us to replace your tires.